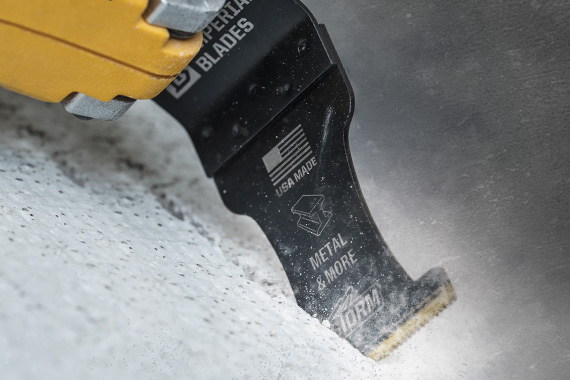 Titanium Coated Carbide Innovation
For the better part of the last 10 years, the oscillating multi-tool has transformed the world of cutting tools. This extremely easy to use, safe and versatile power saw is now a "must have" for contractors of all kinds. Almost every tool brand is aggressively innovating their version of the oscillating multi-tool turning this former-scarcely known machine into a mature power tool category.
Since its inception, Imperial Blades has been known for their American made, long lasting and innovative multi-tool accessories. Once again, in 2017, Imperial Blades has innovated far beyond its years with the creation and launch of the world's first and only titanium-nitride coated carbide blade. The IBOAT360, as they call it, boasts 30X more cuts than standard bi-metal blades with an extremely diverse host of potential applications. With the ability to cut hardened bolts, deck screws, rebar, cement board, steel and copper pipe, drywall, wood, tile and more, Imperial Blades' carbide blade has revolutionized the multi-tool category once again. The IBOAT360 is made using a proprietary laser joining process and is the only oscillating carbide blade in the world to be titanium-nitride coated to repel heat, increase performance and extend life. This American Made saw blade is not only capable of handling the toughest class of material, the TiN (titanium) coated, robust, carbide tooth pattern allows one-of-a-kind performance cut after cut.
The IBOAT360 carbide blade joins a powerhouse lineup of titanium-nitride coated blades that are unmatched in their performance and longevity. Historically, finish carpenters and flooring contractors alike would leave a job frustrated by their oscillating blade's inability to not only last through hardwood but also the nails, staples and screws they would inevitably encounter. Enter Imperial Blade's STORM series; the IBOA- T330, T336, T337 and T340 transformed the world of wood and metal cutting forever. Due to the advanced engineering and unique tooth patterns found in the STORM range, paired with their TiN coated, bi-metal technology, contractors don't have to worry about burning out a saw blade if they hit metal while cutting an application of any kind.